July 2014 Newsletter
Author: Daniel Hoskin Date Posted:24 July 2014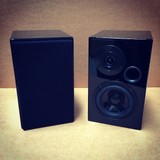 We're pleased to welcome our new site manager, Daniel...
There's a lot happening at LSK!
New site manager, lower prices & a bigger range.
We're pleased to welcome our new site manager, Daniel. He's been hard at work over the last month updating the site and getting things running smoothly.
The new website and store are now complete, and we think you'll be really pleased. There were some initial teething issues with the site but they've now been sorted out.

Thanks to our new shipping solution we've expanded our product range to include a lot more subwoofers, amplifiers and other large or heavy products that were once too costly to import. Our prices are now much more competitive and in most cases much cheaper than the cost of importing items yourself. Not to mention you've still got the comfort of local support and warranty.

There's a heap of site updates including our new "always in stock" items, a bargain cornerwhere our sale and clearance items will be, and a much improved shipping calculator that you can use without having to checkout.

We're now contactable by phone and email, as well as being active on Facebook, Instagram and Twitter.
---
Leave a comment