Please note: this is a kit. Images of finished speakers are for example only.
Introducing the new S8 active subwoofer kit...
The S8 is a brand new LSK design, best suited to augment or extend the low frequency response of any LSK stereo speakers, but also not out of place in low to medium powered multi-channel home theatre systems.
The S8 is a sealed box active subwoofer, in a very compact package - a 28cm cube. But don't let this small size fool you, the S8 sure packs a punch with 20mm of linear travel and 250W of clean RMS power!
The applications the S8 best suits are:
Subwoofer for stereo speakers for music listening

Home cinema subwoofer in a 5.1 or 7.1 setup
Included in the S8 active subwoofer kit:
6 panels of CNC machined MDF featuring our easy to assemble mitre joints

Dayton SPA250 plate amplifier

1 LSK 8" paper cone subwoofer

1 piece of acoustic stuffing

Black screws for assembly

Assembly instructions

DIY speaker grille
(s8mk1)
The LSK S8 comes with a Dayton Audio SPA250 subwoofer amplifier which produces 250 watts of clean power output, and combines with a host of flexible user options to make it an unbeatable choice. A user-configurable bass boost circuit creates a 6 dB peak at 35 Hz, which allows sealed subwoofer designs and certain ported enclosures to achieve their optimum bass extension and maximum "flat" output.

The SPA250 features RCA line level and banana jack speaker level inputs and outputs, automatic power-on that is triggered by any audio input signal, and a phase reverse switch to match the subwoofer to your room and your other speakers. A single amp can accept a stereo input signal and combine it into mono, which is preferred for sub bass reproduction. A preamp or receiver's LFE output may be connected to the SPA250's Left (mono) input. The internal low pass crossover is fully adjustable between 40 and 180 Hz, and of course the amp has built-in protection against internal and external faults.
• Variable low-pass filter at 24 dB/octave attenuation from 40 Hz ~ 180 Hz
• Switchable phase 0° (NOR) or 180° (REV)
• Variable gain MIN/MAX input voltage dependent
• Speaker level high-pass outputs 6 dB/octave at approximately 90 Hz @ 8 ohms, 180 Hz @ 4 ohms (i.e. 220 uF electrolytic capacitor)
• Line-level full bandwidth (10 Hz- 20 kHz) outputs/throughputs for adding or "daisy chaining" additional amplifiers
• Subsonic filter 12 dB/octave high-pass filter centered at 20 Hz
• Damping factor at rated power: 114 @ 100 Hz
Specifications: • Measured power output: 156 watts RMS into 8 ohms @ 0.1% THD, 252 watts RMS into 4 ohms @ < 1.0% THD • Signal to noise ratio: 90 dB A-weighted • Input impedance: 10.4K ohms • Bass boost: Switchable, 6 dB @ 35 Hz • Low pass adjustment: 40 Hz to 180 Hz • Phase adjustment: 0º (normal) 180º (reverse) • Power requirements: Switchable, 115/230 VAC, 60/50 Hz •
Please note:
These are the actual measured responses, without the doctoring or smoothing which commonly occurs in the audio industry. Frequency response measurements are gated, but not smoothed. Measured at 1m distance, on tweeter axis, unless otherwise specified.

Weights are without grills attached.

All specs and response graphs with bass boost function enabled on plate amplifier.
| | |
| --- | --- |
| Model | S8 |
| Width (mm) | 280 |
| Height (mm) | 280 |
| Depth (inc. grill & amp) (mm) | 330 |
| Assembled Weight (kg) | 12.5 |
| Nominal Impedance (ohms) | N/A |
| DC Resistance (ohms) | N/A |
| Minimum Resistance (ohms) | N/A |
| Maximum Impedance Phase Angle (degrees) | N/A |
| Power Handling (Continuous - RMS) | 150W |
| Power Handling (Short Term - Peak) | 600W |
| Sensitivity (dB) (2.83V/1m) | N/A |
| Recommended Amplifier (RMS) | Inbuilt 250W |
| Bass Performance (Hz) (-3dB cutoff) | 23.5 |
| Hi Frequency Extension (Hz) (-3dB cutoff) | Variable, 60 to approx 200 |
| Flat Frequency Response Deviation (dB) (to 20kHz) | N/A |
| Filter Sections | 1 |
| Filter Order | 4th order |
| Crossover Frequency (Hz) | Low-pass variable 40-180 |
| Bi-wire Capable | N/A |
| Woofer Diameter (nominal) | 8"/203mm |
| Woofer Material | Paper |
| Tweeter Diameter (nominal) (mm) | N/A |
| Tweeter Material | N/A |
| Cabinet Wall Thickness (mm) | 18 |
| Cabinet Material | MR MDF (Moisture Resistant) |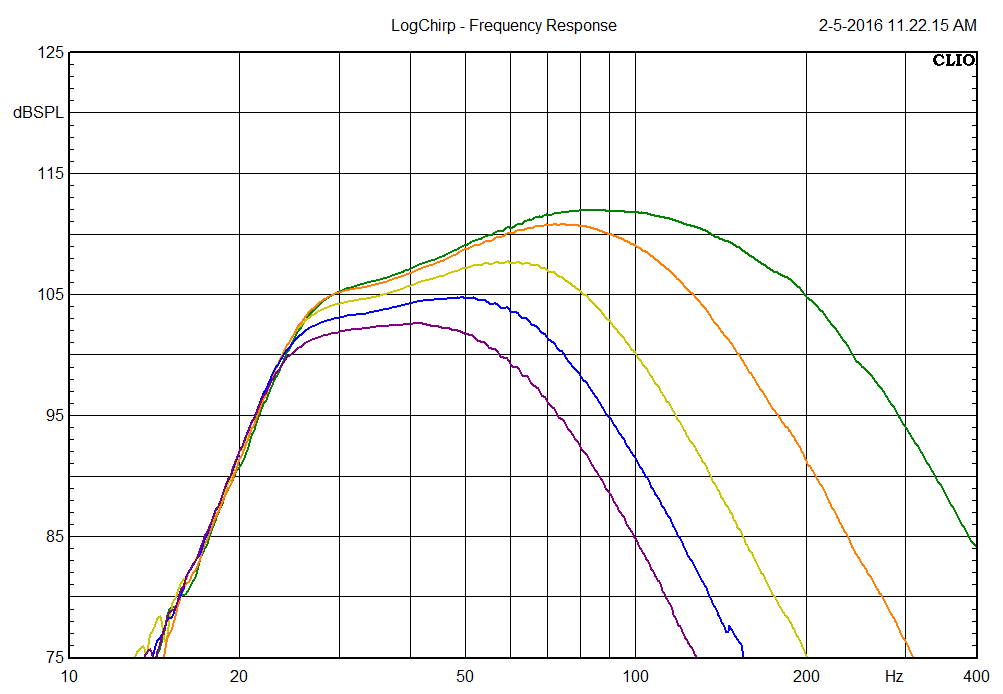 Nearfield S8 response with low pass crossover setting varied from maximum (green) to minimum (purple).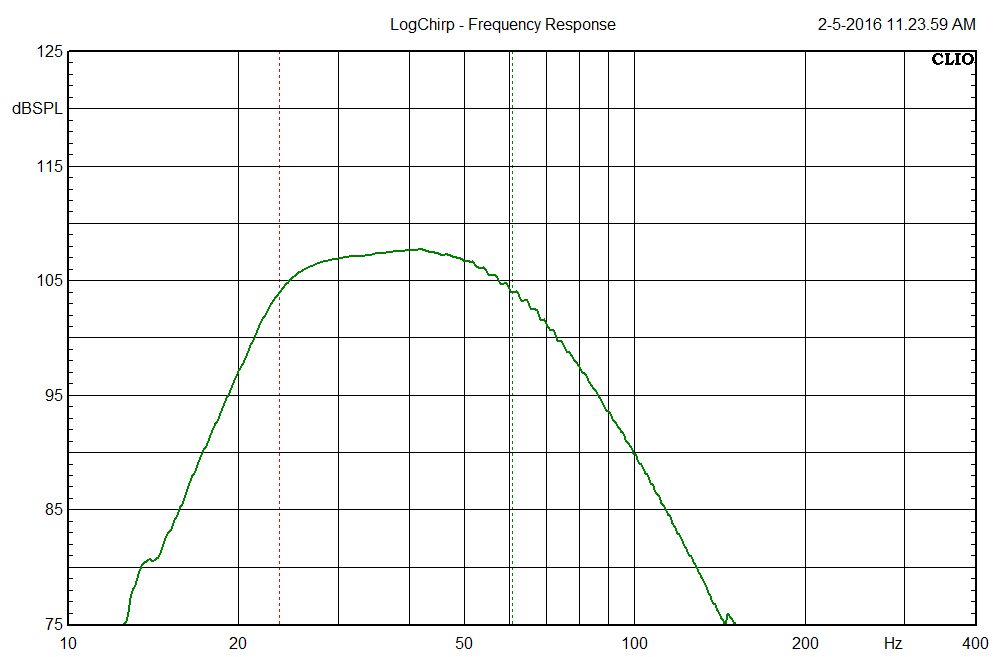 Nearfield S8 response with crossover set on mimimum, showing low frequency cutoff (-3dB) at 23.5Hz and high frequency cutoff (-3dB) at 61Hz.
| | |
| --- | --- |
| SKU | s8mk1 |
| Model # | LSK-S8 |
| Brand | LSK |
| Shipping Weight | 7.9000kg |
Warranty Policy
Product Warranty
All LSK speaker kits are covered under a 3 year warranty. Warranty coverage includes manufacturers' defects on all components such as woofers, tweeters and crossover circuits. Damage to speakers is usually caused by an underpowered amp which is clipping due to being driven too hard. Damage to speaker drivers and kit components caused by over-driving the amplifier or the speaker is not covered by warranties*.
Satisfaction Guarantee
If you purchase a kit from us and are not absolutely satisfied with the sound quality then you can return it to us within 14 days for your money back (this applies to kits only). All you pay is the freight cost back to us provided the components are in as-new condition and you have kept the original packaging. You must return the cabinets as well even if these have been partly or completely assembled.
The Box Build Warranty
We are certain that you will find the cabinets that are supplied with our kits easy to build and of an excellent fit and finish. If, however, you are not absolutely happy with the finish you have obtained, you can return the cabinet to us and we will supply you with a replacement cabinet at a nominal price.
* Suggested amplifier power ratings in our specifications are nominal only. There is a wide range of factors which impact the performance and suitability of any speaker/amplifier matchup. In general, kits from M4 upward will suit most commonly available Home Theatre DD/DTS receivers.
Be The First To Review This Product!
Help other The Loudspeaker Kit users shop smarter by writing reviews for products you have purchased.
comments powered by

Disqus
---
Others Also Bought
---
More From This Category