Get your orders in! The M3 mini speaker kits and M4 Mk2 mini monitor kits are waiting for you!
Author: Sarah Tomlinson Date Posted:15 April 2015


New kit range update
Despite our best efforts, a few spanners have been thrown into the works of our production schedule for the new range of loudspeaker kits. After a lengthy wait for a CNC machine part, we recently began pumping out new products.
As you may have seen on our Facebook page, we've been putting the CNC machine to work filling orders for the M3 mini speaker kit and the M4 Mk2 mini monitor kit. The new and updated range of kits has been revamped by high-end loudspeaker designer Stuart Graeme Ralston of SGR Audio so you won't be disappointed once you hear the sound quality for yourself – these speakers perform well above their price point.
Our aim is to keep you as informed as we can about where we're at with production. So here goes:
Available now
Don't wait to start on your next audio DIY adventure - check these products out!
M3 mini speaker kit: The M3 is the baby of our kit range and is a full range speaker best suited for use on a desktop or in any compact stereo system. It's perfect for someone on a tight budget who still wants to achieve great sound. The first batch has been run off the CNC machine, so get your orders in!
M4 Mk2 mini monitor kit: Released in 2014, the new version has been given a major upgrade and remains one of the biggest sellers. As with the M3, it's a great start to anyone's DIY audio adventures and is best suited for desktop applications and for use in compact stereo or surround sound systems. With the CNC machine in action, these kits are now back in stock.
C4 centre channel kit: Also released in 2014 alongside the M4 Mk2, the C4 has received positive feedback from customers. It is compact in size and suitable as a centre channel speaker in any surround sound or home theatre scenario, and is a great accompanying speaker to the M4. It can also be used in stereo configuration as a mid-tweeter-mid (MTM) pair. Hit up the website because these kits are waiting for you!
Coming soon
Our 6 series is not far off with the hold-up being a wait on the custom designed drivers. We're expecting our driver order to arrive in late April and currently have a couple of M6s on display in our demo room. The updated 6 series will be the best speakers LSK has ever released.
M6 Mk3 monitor kit: The M6 Mk3 is a long awaited update on a popular LSK design. Best suited for home theatre front left and right speakers, stereo speakers for music listening, bookshelf speakers for home and office, or foldback speakers for studio work, the M6 is extremely versatile. Book in a visit to our demo room to try before you buy.
C6 Mk2 centre channel kit: The C6 is another update and is great for use as a home theatre centre channel speaker in a 5.1 or 7.1 setup or as a foldback speaker for studio work.
F6 Mk3 floorstanding kit: The F6 is in the same class as the M6 and C6 and will not disappoint. If you're looking to create a home theatre system, the F6 is a perfect solution for your front left and right speakers but is also a great solution for your stereo system needs.
We'll keep you posted
The remainder of our range will quickly follow suit once the 6 series is in production.
F4 floorstanding kit: A completely new product, the F4 is great for people limited on space but still wanting to achieve a high quality home theatre (as front left and right speakers) or stereo set up. The F4 has the same drivers as the M4 and C4 but will provide higher output and lower bass extension.
S8 active subwoofer kit: Like the F4, the S8 kit is a completely new design and performs well with any LSK stereo speakers or multi-channel home theatre systems.
Open and honest communication
It's been a bit of a bumpy journey to get to this point of production and we thank our valued and loyal customers for their patience and support in our pursuit of audio perfection at affordable prices. We aim to openly and honestly communicate with our customers wherever possible and encourage you not to hesitate in contacting us should you have any questions about our product range or production times. Jump onto our Facebook page for regular updates.
Image: Our M6 Mk3 monitor (stand mount) speakers are on display in our demo room.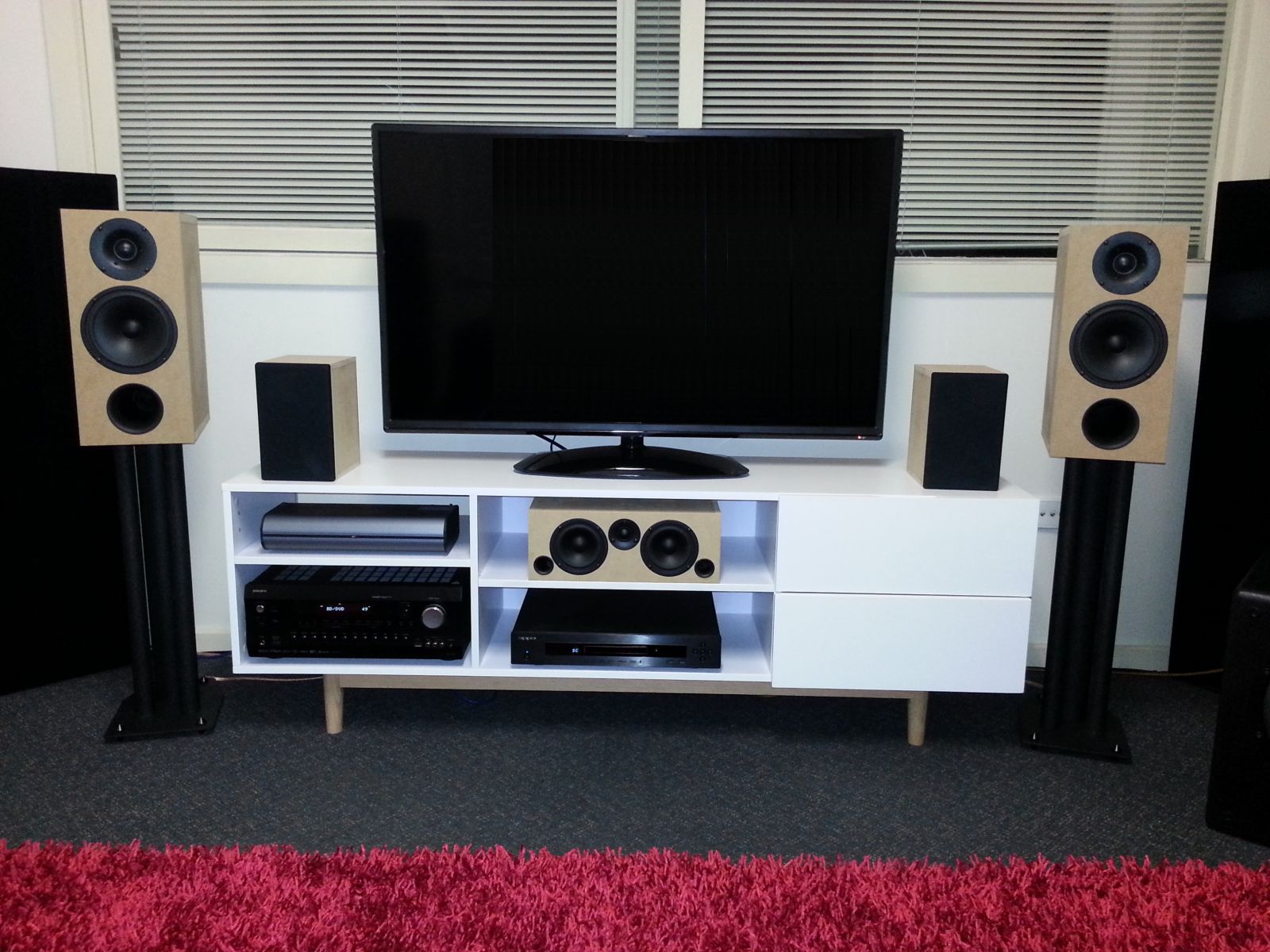 ---
Leave a comment