Please note: this is a kit. Images of finished speakers are for example only.
Prepare to be blown away...
Packing a sound punch in pocket size, the M4S is an incredible improvement on a popular favourite. As with all our new kits, the M4S has been re-vamped and overhauled. We engaged one of the most respected loudspeaker designers in the industry, which means you can now enjoy high end performance at very affordable prices.The M4S is also the perfect tonal and efficiency match for our C4S when used in a surround sound setup (see the overlaid graph in the specifications).

We also offer a more complete package to really get you started. Check out the M4S bundle which includes the Acento Dynamic ADA120 amp or Dayton DTA-120BTv2 amp, speaker cable and RCA cable.
What's different about the Mk2 version of M4S?
We've started with the existing box and shifted the port away from the tweeter to provide a smoother top end. The new drivers and crossover are the secret to a major step up in sound. This is a dramatic improvement. The previous drivers were very low cost and being built to a price, the crossover consisted of a cap to protect the tweeter and a resistor to pad down its level to match the mid. This is the minimum crossover to make as listenable speaker, but a more substantial crossover will nearly always improve the sound.
What needed to change?
We faced a dilemma with the M4. It was the biggest seller and a big part of this was the low asking price. Do we keep it the same and not mess with success? Or do we increase the cost and push up the performance? The existing M4 had some cone breakup that wasn't resolved in the crossover. All mids, especially budget ones, exhibit this problem when the cone no longer operates as a perfect piston, and you can see a peak in the frequency response. The original M4 ignored this issue and the result is a forwardness in the sound. This issue was unique to the M4 and reflects budget restraints rather than bad design. We decided in the M4S version we weren't happy to leave the issue unresolved. The new crossover is more substantial and results in a dramatically improved midrange performance.
SB Acoustics drivers
M4S now features SB Acoustics branded drivers. The drivers we use have performance that matches or exceeds most of the DIY favourites. This means we are able to use better drivers for a given price point, than if we were to use the drivers that DIYers expect in kits. In an entry level kit like M4S, the result is a dramatic improvement.

If you're an earlier M4 owner, now is a great time to try the new version. Even if you don't consider yourself a serious audiophile, you'll hear the improvement right away.

The applications the M4S best suits are:
Matching speakers in home cinema 5.1 or 7.1 application

Effects (rear) speakers in larger home cinema systems

Bookshelf speakers for bedroom/office

2 channel PC Audio applications

4 channel PC Audio applications
Included in the M4S speaker kit:
2 x SB Acoustics 4½" Woofer SB12PFC25-8
2 x SB Acoustics

Tweeters

SB19ST-C000-4
2 x Pre-built Crossover Networks
2 x Round input Terminals
12 x Panels of CNC machined MDF featuring mitre joints
2 x CNC machined black MDF grille frame with grille cloth
34 x Self tapping Screws
2 x 25mm Tuning Ports
2 x Pieces of Acoustic Lining
(m4s)
| | |
| --- | --- |
| Model | M4S |
| Tweeter | ¾" SB Acoustics SB19ST-C000-4 |
| Woofer | 4½" SB Acoustics woofers SB12PFC25-8 |
| Frequency Response | 60 Hz - 20 kHz |
| Impedance (nominal) | 8 ohm |
| Sensitivity (2.83V) | 84 dB |
| Power handling (AES) | 30W |
| Power handling (program) | 60W |
| Recommended amplifier | 15 - 60W |
| Dimensions (mm) | |
| Width | 145 mm |
| Height | 260 mm |
| Depth | 180 mm (excluding 12mm grille) |
| Weight | 3 kg |
Frequency response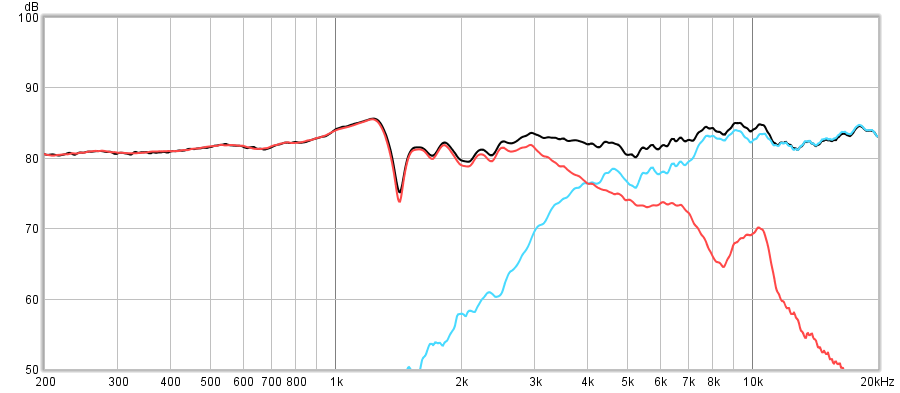 Response at 0, 30, 45 and 60 degrees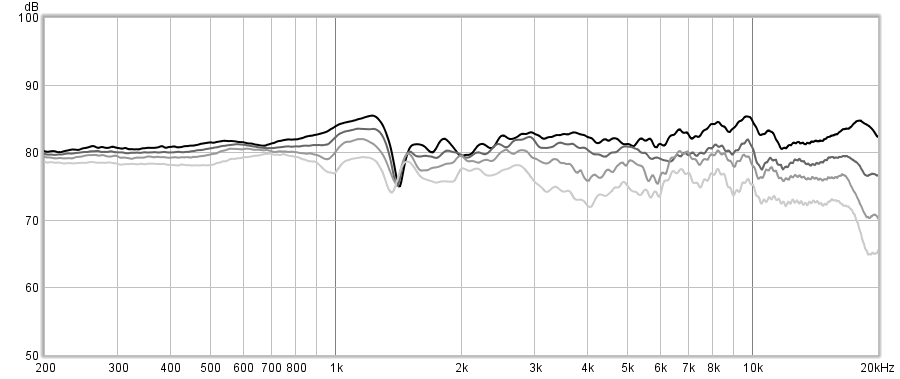 The above plot shows the response at 0, 30, 45 and 60 degrees. Here you can see the smooth off axis response. In certain regions, the off axis response actually improves.
Power handling specs explained
AES power handling represents the ability of the speaker to handle a continuous 2 hour pink noise signal with bass content limited. Program power is a higher rating due to the fact that music isn't a constant signal. We specify a suggested power range for your amplifier which should suit most people. However, it should be noted that this provides no certainty that a speaker can't be over driven and fail. Our warranty does not cover speaker damage due to abuse. Content with large amounts of low bass can push woofers beyond their excursion limits. Extended listening at high levels can result in driver failure due to thermal stress. This is not covered by warranty.
| | |
| --- | --- |
| SKU | m4s |
| Model # | M4S |
| Brand | LSK |
| Shipping Weight | 6.8500kg |
| Shipping Width | 0.310m |
| Shipping Height | 0.210m |
| Shipping Length | 0.310m |
| Shipping Cubic | 0.020181000m3 |
Warranty Policy
Product Warranty
All LSK speaker kits are covered under a 3 year warranty. Warranty coverage includes manufacturers' defects on all components such as woofers, tweeters and crossover circuits. Damage to speakers is usually caused by an underpowered amp which is clipping due to being driven too hard. Damage to speaker drivers and kit components caused by over-driving the amplifier or the speaker is not covered by warranties*.
Satisfaction Guarantee
If you purchase a kit from us and are not absolutely satisfied with the sound quality then you can return it to us within 14 days for your money back (this applies to kits only). All you pay is the freight cost back to us provided the components are in as-new condition and you have kept the original packaging. You must return the cabinets as well even if these have been partly or completely assembled.
The Box Build Warranty
We are certain that you will find the cabinets that are supplied with our kits easy to build and of an excellent fit and finish. If, however, you are not absolutely happy with the finish you have obtained, you can return the cabinet to us and we will supply you with a replacement cabinet at a nominal price.
* Suggested amplifier power ratings in our specifications are nominal only. There is a wide range of factors which impact the performance and suitability of any speaker/amplifier matchup. In general, kits from M4 upward will suit most commonly available Home Theatre DD/DTS receivers.
Great fun, great product.

By:

Renata Apatu

on 26 January 2015

My son and I made up a pair of these for his school dorm. Great fun, very well made kitset, cabinet was easy to assemble, and well made. Good to have the crossover assembled, easy, just place in box. Sounds great, got a NAD D3020 amp to power it, this combo rocks!, certainly deserves better than a 'T amp' type amplifier.




(5)
M4 Mk2 monitors: awesome

By:

Rhys

on 22 December 2014

So I recently ordered a 5 channel bundle, which is a combo of M4s and a C4 centre channel. One word: awesome! The sound coming from these speakers is clear, rich and very well balanced. The bass has punch and is solid, especially given that these are a smaller sized speaker, but it's the clarity in the mid and high range frequencies that blew me away. My previous HT speakers were Pioneers, which cost about the same amount as these LSK's, but I can honestly say the sound of the LSK's is about 10 times better! They are such a bargain given how good they sound! And as others have said, the customer service received from LSK is A1. Daniel went out of his way to assist and offered great advice to help me decide that these were the right speakers I was looking for. He even sent me a pair of M4's on a try before you buy arrangement. I can't recommend their products and customer service highly enough!




(5)
Excellent Value

By:

Ross Tunney

on 9 October 2014

I bought one of the last sets of the original M4s, and while they sounded excellent, I felt they were a little too 'bright' and so was not quite happy with them. Not so with these new kits - the sound is really well balanced, and bass is excellent for such a small speaker. The kit itself is really well thought out, and thus very easy to assemble. I have covered mine with Tasmanian Blackwood veneer and they look fantastic. I also can't recommend this company's customer service highly enough: Daniel allowed me to exchange the mk1s for the mk2s with no questions asked, and has provided lots of helpful feedback. Shipping is fast and reliable. You can't go wrong!




(5)
LSK M4 MK2 Mini Monitor Kit

By:

Keith Connelly

on 9 October 2014

Look I found this kit extremly easy to assemlble.Honestly-I have speakers that I paid over $2000 dollars in 1998 they are still great-But seem to lack something.I have tried out many speakers since 19723 Speakers like KEF ,BOSE.JBL,NATIONAL. Honestly, without a shadow of a doubt,These two little small speakers,that I assembled my self would have to be the best sound I have heard from any speaker I have listen to.Without a doubt!




(5)
comments powered by

Disqus
---
Others Also Bought
---
More From This Category