Please note: this is a kit. Images of finished speakers are for example only.
Achieve awesome sound for an affordable price
The M3 is the baby of our kit range but its size is no measure of its sound. Being a full range speaker that uses a balanced mode radiator (BMR) driver, the M3's greatest features are its wide frequency response (61Hz and up) and wide dispersion - all wrapped up in a tiny package that will save you money as well as space. The wide dispersion also means that speaker placement isn't crucial. They'll sound great wherever you decide to place them in your room of choice.
If you're looking for a fun, affordable and easy way to achieve high quality sound, then the M3 kit is for you! It's also perfect for those embarking on their first DIY audio adventure. Consider yourself warned though - once you finish one kit, you'll want to start another. The enjoyment and satisfaction of building your own speakers is hard to beat!
The M3 is perfectly suited for use as desktop or bookshelf speakers, or in any compact stereo system. Don't forget to check out our M3 speaker kit bundle! It includes the M3 kit, Dayton DTA-1 amplifier and speaker cable. That's everything you'll need to make noise!
"They sound really good especially considering how inexpensive they are! Obviously due to the size of the driver and enclosure bass is limited but I find they excel at reproducing small ensemble Jazz, string quartets & female vocals in particular. After finishing them I used them for virtually a whole day as a stereo pair and found the sound clean and un-fatiguing. I was often surprised by the excellent quality of the sound coming from these tiny things!" - David aka VladimirFreddie from StereoNET
What's included in the M3 mini speaker kit box?
2 x 3" full range drivers
2 x round input terminal
12 x panels of CNC machined MDF featuring our unique panel locking system
20 x screws
2 x 25mm tuning ports
2 x

pieces of acoustic lining
2 x wire looms
(m3mk3)
Introducing bending wave drivers
Bending wave drivers provide very wide dispersion, which means the off axis response is free from the beaming that is common to conventional drivers. The response on axis is not as flat but the response off axis is far more consistent. When listening with the speakers aimed at the listener, there is increased treble which some may prefer for the extra detail and sparkle. Those who prefer a flatter presentation can change the angle. If you listen 25 degrees off axis, the treble becomes flat, as shown in our plot below: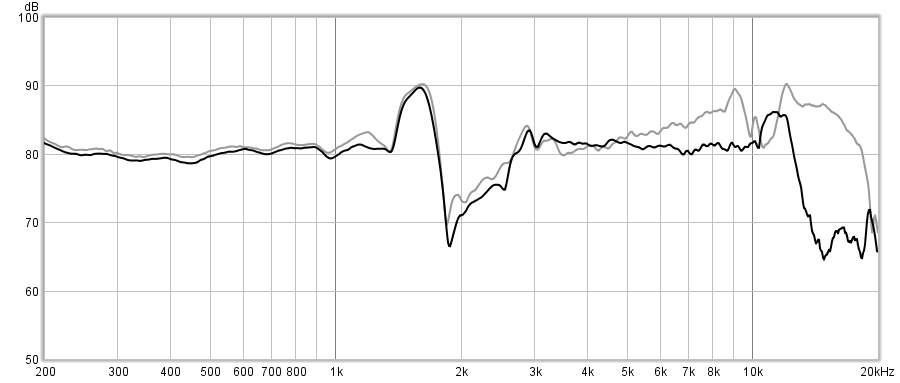 Gated frequency response (no smoothing) - black: response 25 degrees off axis grey: response on axis
If the speakers are set up in an equilateral triangle configuration without toe in on the speakers, the response will be fairly similar to the black plot above.
These speakers are ideal for many casual listening situations, where the speakers are not directly aimed at the listener.
| | |
| --- | --- |
| Model | M3 Mk3 |
| Driver | 3.5" TectonicTEBM65C20F-8 |
| Frequency Response | 61 Hz - 13 kHz (+/- 8 dB) |
| Impedance (nominal) | 8 ohm |
| Sensitivity (2.83V) | 79 dB |
| Power handling (AES) | 30W |
| Power handling (program) | 60W |
| Recommended amplifier | 10 - 50W |
| Dimensions (mm) | |
| Width | 120 mm |
| Height | 190 mm |
| Depth | 140 mm (excluding 12mm grille) |
| Weight | 2 kg |
Power handling specs explained
AES power handling represents the ability of the speaker to handle a continuous 2 hour pink noise signal with bass content limited. Program power is a higher rating due to the fact that music isn't a constant signal. We specify a suggested power range for your amplifier which should suit most people. However, it should be noted that this provides no certainty that a speaker can't be over driven and fail. Our warranty does not cover speaker damage due to abuse. Content with large amounts of low bass can push woofers beyond their excursion limits. Extended listening at high levels can result in driver failure due to thermal stress. This is not covered by warranty.
| | |
| --- | --- |
| SKU | m3mk3 |
| Model # | LSK-M3 |
| Brand | LSK |
| Shipping Weight | 3.9200kg |
| Shipping Width | 0.190m |
| Shipping Height | 0.160m |
| Shipping Length | 0.280m |
| Shipping Cubic | 0.008512000m3 |
| Assembled Length | 0.140m |
| Assembled Height | 0.190m |
| Assembled Width | 0.120m |
Warranty Policy
Product Warranty
All LSK speaker kits are covered under a 3 year warranty. Warranty coverage includes manufacturers' defects on all components such as woofers, tweeters and crossover circuits. Damage to speakers is usually caused by an underpowered amp which is clipping due to being driven too hard. Damage to speaker drivers and kit components caused by over-driving the amplifier or the speaker is not covered by warranties*.
Satisfaction Guarantee
If you purchase a kit from us and are not absolutely satisfied with the sound quality then you can return it to us within 14 days for your money back (this applies to kits only). All you pay is the freight cost back to us provided the components are in as-new condition and you have kept the original packaging. You must return the cabinets as well even if these have been partly or completely assembled.
The Box Build Warranty
We are certain that you will find the cabinets that are supplied with our kits easy to build and of an excellent fit and finish. If, however, you are not absolutely happy with the finish you have obtained, you can return the cabinet to us and we will supply you with a replacement cabinet at a nominal price.
* Suggested amplifier power ratings in our specifications are nominal only. There is a wide range of factors which impact the performance and suitability of any speaker/amplifier matchup. In general, kits from M4 upward will suit most commonly available Home Theatre DD/DTS receivers.
Be The First To Review This Product!
Help other The Loudspeaker Kit users shop smarter by writing reviews for products you have purchased.
comments powered by

Disqus
---
Others Also Bought
---
More From This Category